Well I've been meaning to make a page for this for a while, I just Couldn't be ar*ed until now,
well what can I say? I bought My Sj from a classified advert on here back in 2006, It was the best SJ I could find at the time and I was Desperate to get on the road. I bought her from a chap on the East Coast, and paid about £1500 for her (which was alot at the time)
When I first bought Her, she had chrome rims, A number plate on the bonnet and spotlights on the bumper with different colour reflectors, he also had suzuki swift gti seats fitted and a matching steering wheel
Any way the first thing I did was buy a fast back roof and fit a vitara bullbar.. (the brackets were borneyos)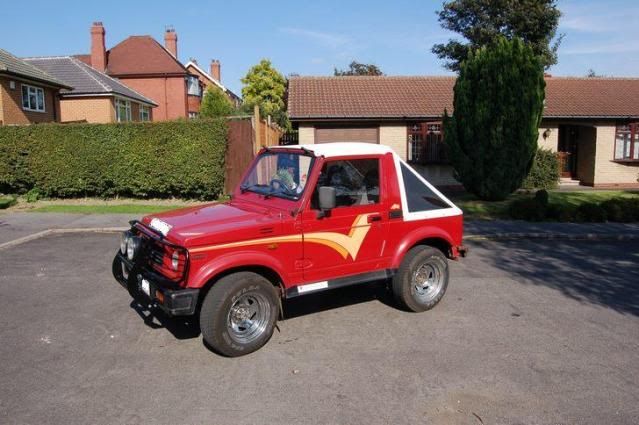 I then purchased important modification parts... A spare wheel cover, mudflaps for the rear and new spotlights. I also bought a 410 bumper (which don't have the facility for the plastic end cap of a sammy) and cut them to fit larger tyres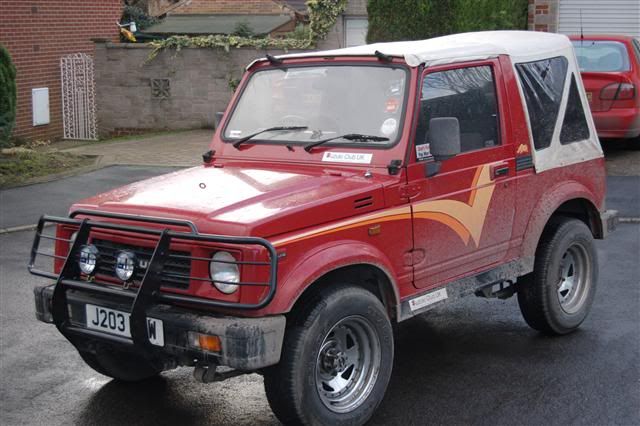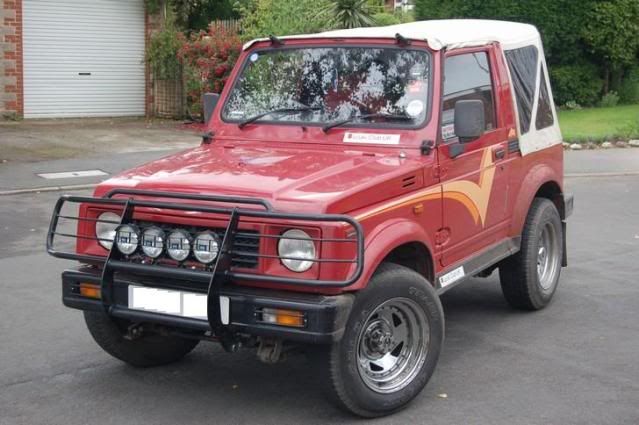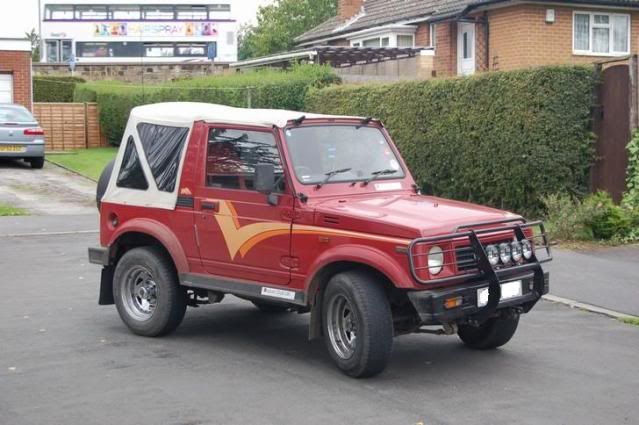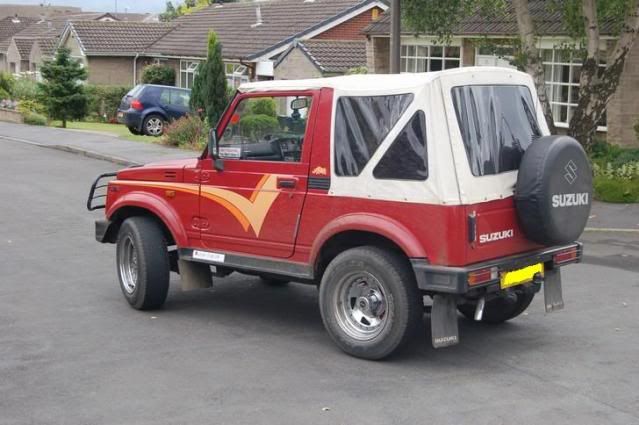 I then bought some wheels and 31" tyres. tbh I wasn't really sure how big they would be and thought they would fit with no lift

I have no excuses I should have known better
anyway I fitted them and found they were fine as long as I didn't turn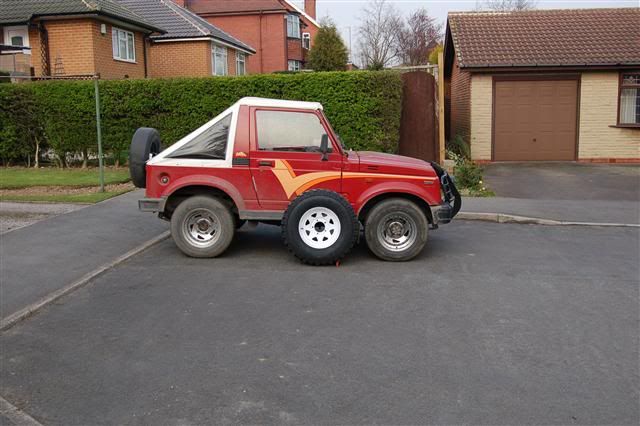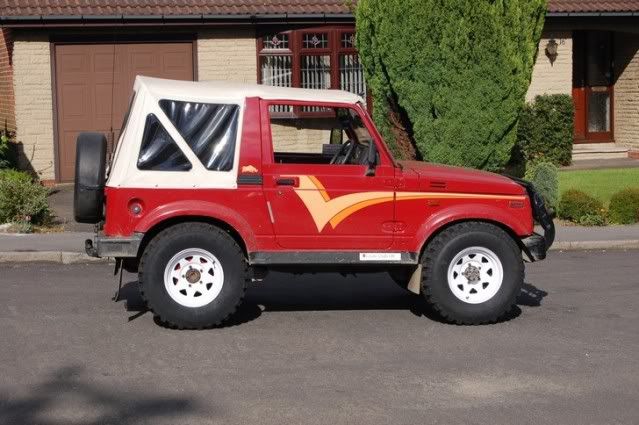 So off they came and I ran around on the originals for a bit longer, I also bought a Cb radio, some idicator/light gaurds and made a light bar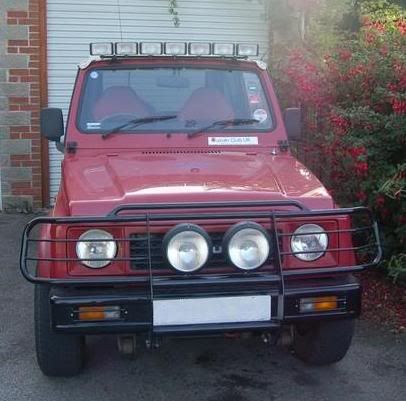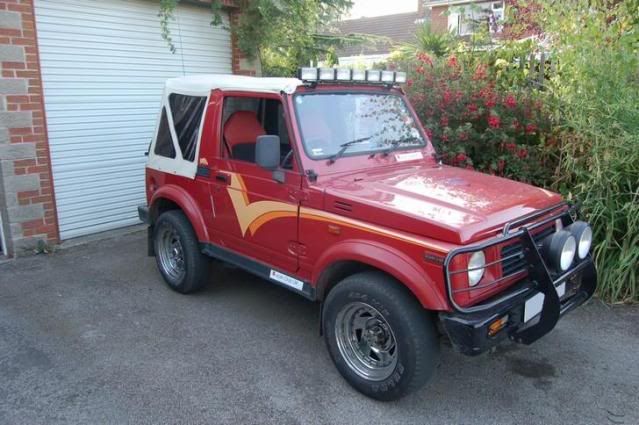 after I got the CB radio I realised it had a PA output so I had to invest in a speaker which I fitted under the bonnet!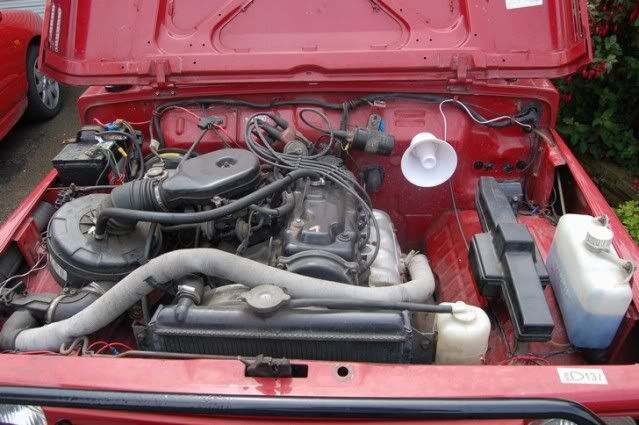 This was also the same point that my original seat broke on the hinge, So I bought some new swift GTI seats, unfortunately the lining had cigarette burns in, I took them to a car upholsters to get them repaired, then in the workshop he had some ford mustang seats he had just recovered in red leather. I had quite a disposable income at the time and feel in love with the leather, so decided on the spot to have them recovered in the leather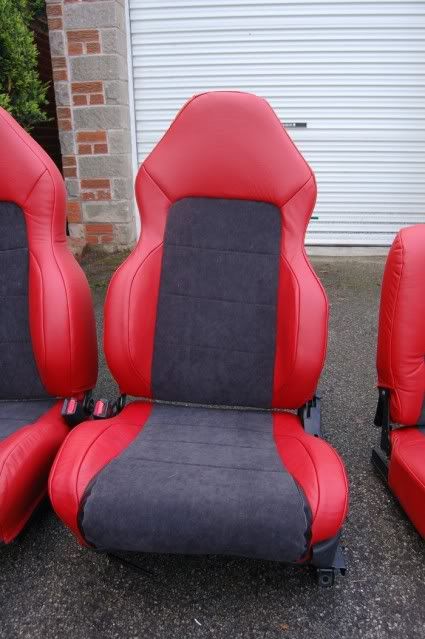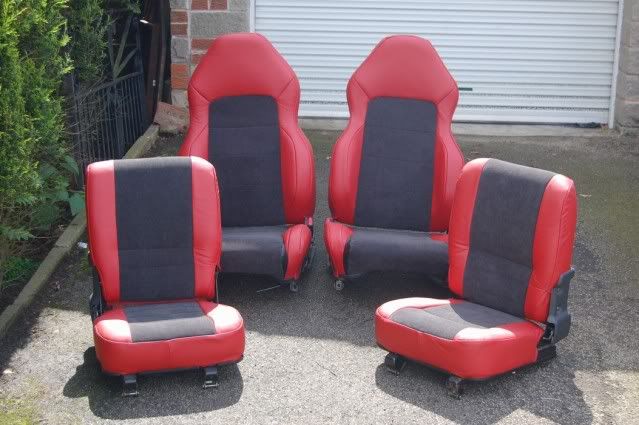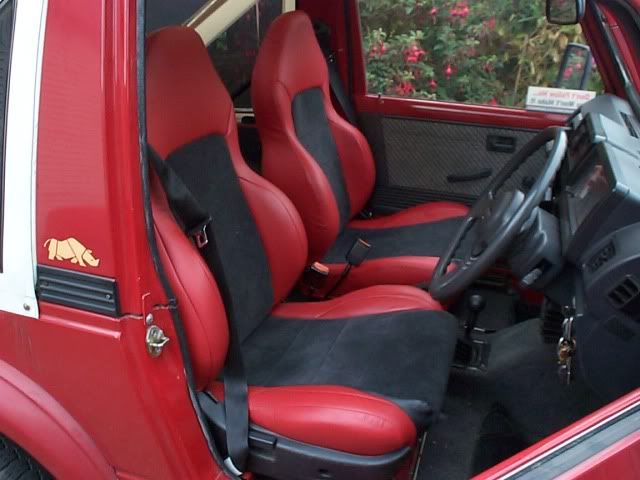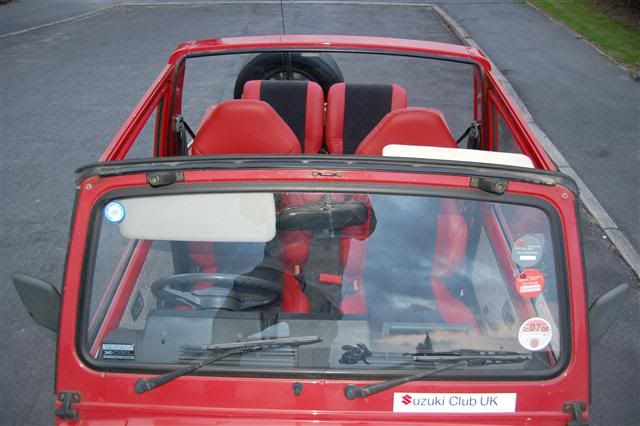 I ran it that way for a while It was fine for what I did with it, I went out with my friends 410 a lot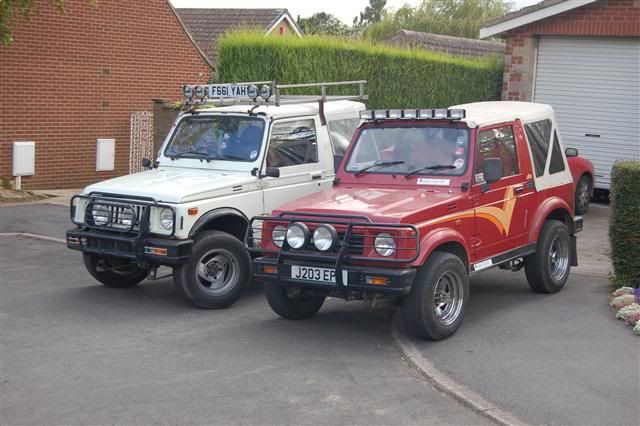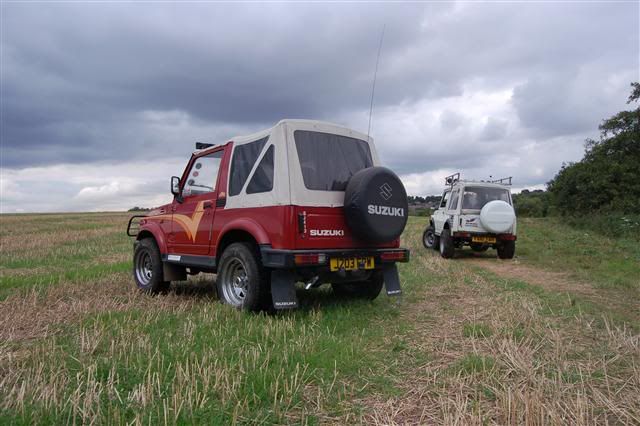 but the tyres were ready for changing and I still had my 31's in the garage, So I invested In a kit a knew would give me the clearence I needed, So I bought a Calmini 3.5" reverse shackle lift kit My tyres fitted better, but still rubbed even with 32mm spacers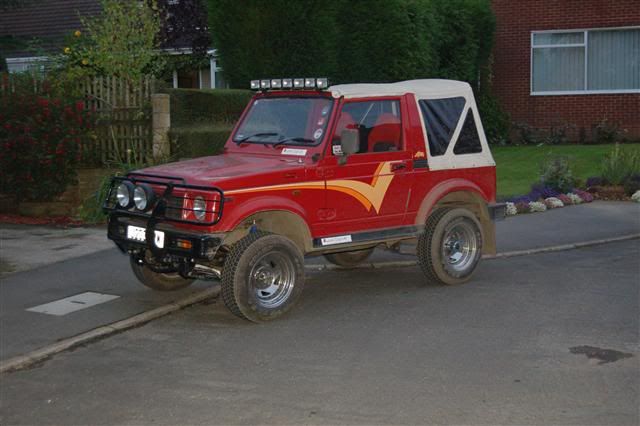 So I bought new tyres 235/75r15 to make it more useable, (Amazon Re-treads)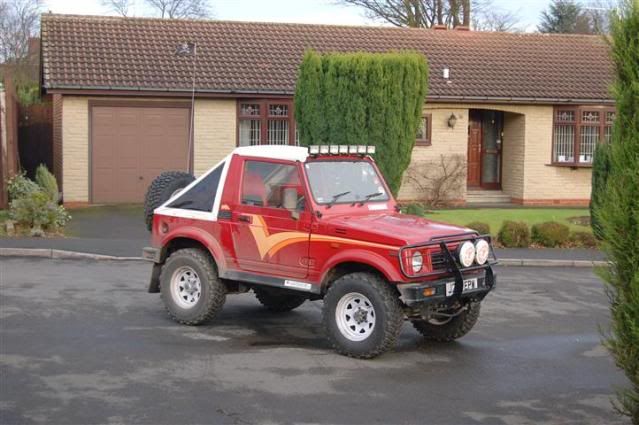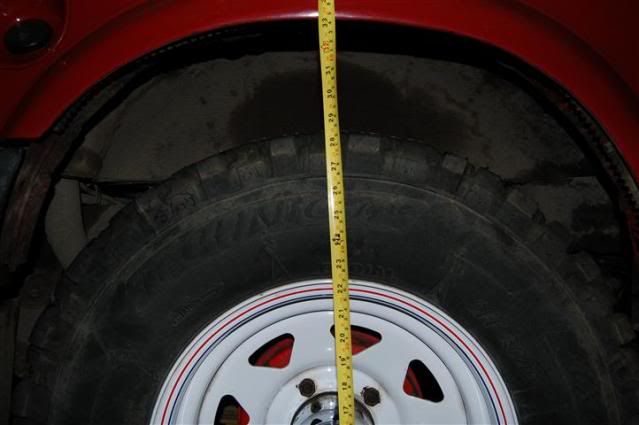 they were great and fitted it perfectly but the seed had been sown and I thought it would benifit from lower gearing, so I invested in a Rocklobster t-box (4.16:1) from the offroad armoury. This did lower the gearing but maybe lowered it too much, although I was quite happy with it,
I had a few good days out in it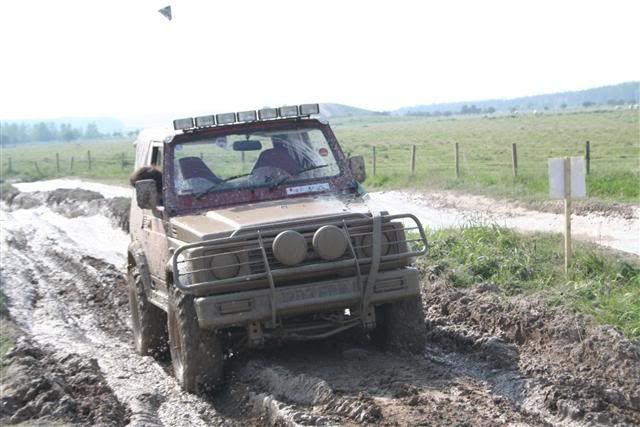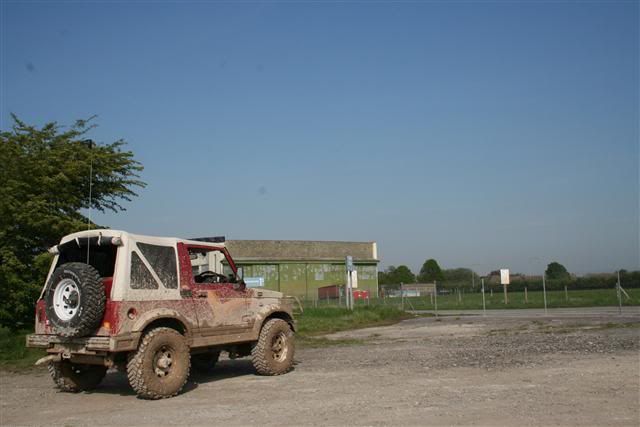 but It was about this time that they put us on short hour at work and I couldn't afford to keep the SJ on the road I laid it up and started going to work on my motorbike until things picked up (or so I told myself) while it was laid up I removed the bull bar and fitted the original bumper back on ( i gave the old one to a friend when I sold him the 31's)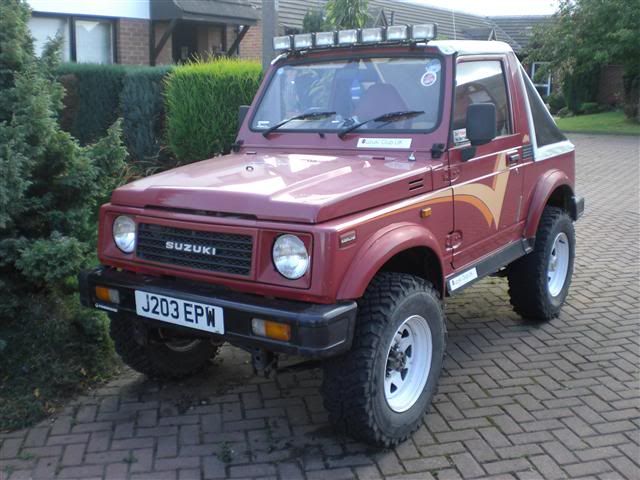 It sat outside until its tax ran out and looked very sad for itself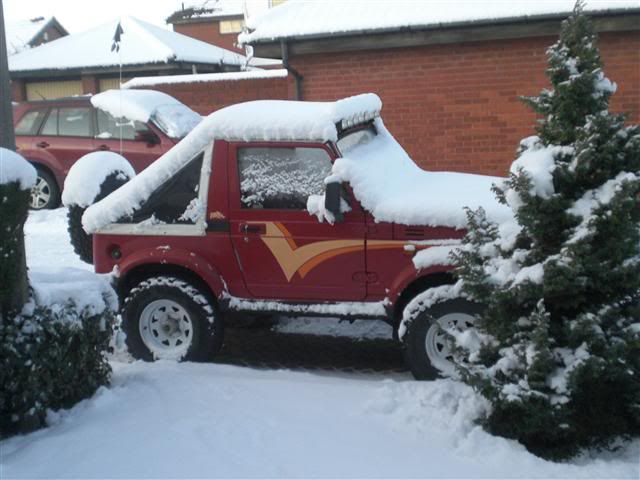 Last year I moved it into the private car park at the end of my street - out of the way. Shortly afterwards had an accident stopping me driving manual cars. I left it the car park for a few months and when I checked on it I found the foot wells full of lovely green water and a carpet of mould on everything so I sold most of my motorbikes and had a neighbour move it into a gargae for me,
And thats where it is now, no tax no mot and off the road for going on 2 years now, at least its safe where it is and not filling up with water any more!
*edited on 30.11.11 to relink the pictures*