Suzuki, will you marry me?

Posts: 2989
Joined: Wed Feb 23, 2011 7:54 pm
Location: south oxfordshire
Contact:
Not sure what to make of that. Certainly not flash red looking at this??
Attachments

IMG00453-20130803-1817.jpg (106.71 KiB) Viewed 5641 times
2005-GV 1600se, "Hell" What do I know!
---
I spend far too much time on here

Posts: 4478
Joined: Fri Jun 25, 2010 9:29 pm
Location: West Sussex
Looks like it hasnt been mixed up properly i my opinion. I got some gloss black from my local paint and preperation shop and when I got home opened and it was closer to navy blue.
Tom

Ford Fiesta ST

---
As I said in an earlier post I`ve decided for Ford Colarado red, as I have lots of Suzuki flash Red (debatable......) I will give the vehicle two light coats in this colour and a final coat in colarado red. As you can see the front is on and I`m busy masking up ready to paint the outside. I`ll have to upload some photographs in the build projects part of the forum, as i have done two swaps the blitz kit is now on the newer chassis (just visible in the picture) and the Sammy tub is on my original chassis (sentimental reasons!!).
Attachments

IMG00465-20130812-1821.jpg (129.84 KiB) Viewed 5612 times
---
Does anyone know a code (or close match) for the cream used on SJ/Sami wheels? I've used 17A white which is the earlier off-white but looking at the original wheels I'm certain they are darker, more proper cream.And the cream wheels were used regardless of body colour so I think it's a special.
'85 410, 1.3 5spd, SU44, SPUA, no mud.

Douglas
---
---
Suzuki, will you marry me?

Posts: 2829
Joined: Fri Jul 25, 2008 10:09 pm
Location: Rotherham - South Yorkshire
Which bit refers to the paint code?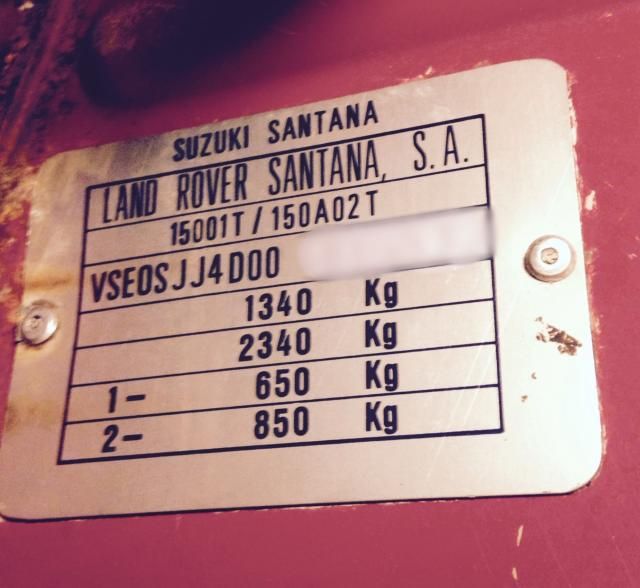 ---
I'm using the 13G apple. Just done the chassis . Not very happy with the color to be honest.
---