Suzuki, will you marry me?

Posts: 2989
Joined: Wed Feb 23, 2011 7:54 pm
Location: south oxfordshire
Contact:
Not sure what to make of that. Certainly not flash red looking at this??
Attachments

IMG00453-20130803-1817.jpg (106.71 KiB) Viewed 8365 times
2005-GV 1600se, "Hell" What do I know!
---
I spend far too much time on here

Posts: 4478
Joined: Fri Jun 25, 2010 9:29 pm
Location: West Sussex
Looks like it hasnt been mixed up properly i my opinion. I got some gloss black from my local paint and preperation shop and when I got home opened and it was closer to navy blue.
Tom

Ford Fiesta ST

---
As I said in an earlier post I`ve decided for Ford Colarado red, as I have lots of Suzuki flash Red (debatable......) I will give the vehicle two light coats in this colour and a final coat in colarado red. As you can see the front is on and I`m busy masking up ready to paint the outside. I`ll have to upload some photographs in the build projects part of the forum, as i have done two swaps the blitz kit is now on the newer chassis (just visible in the picture) and the Sammy tub is on my original chassis (sentimental reasons!!).
Attachments

IMG00465-20130812-1821.jpg (129.84 KiB) Viewed 8336 times
---
Does anyone know a code (or close match) for the cream used on SJ/Sami wheels? I've used 17A white which is the earlier off-white but looking at the original wheels I'm certain they are darker, more proper cream.And the cream wheels were used regardless of body colour so I think it's a special.
'85 410, 1.3 5spd, SU44, SPUA, no mud.

Douglas
---
---
Suzuki, will you marry me?

Posts: 2830
Joined: Fri Jul 25, 2008 10:09 pm
Location: Rotherham - South Yorkshire
Which bit refers to the paint code?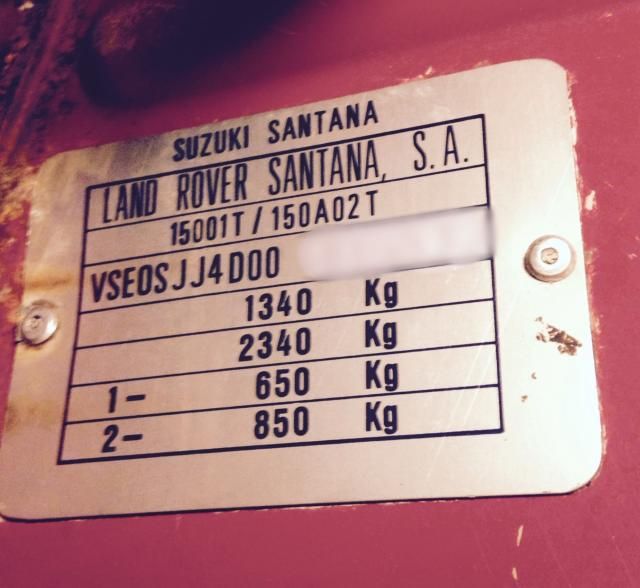 ---
I'm using the 13G apple. Just done the chassis . Not very happy with the color to be honest.
---
SCUK Website Padawan

Posts: 1224
Joined: Sun Feb 03, 2013 5:55 am
Location: Scarborough, soon to be Poland
I know this is an old thread but there can be some useful information on here, any chance you guys still have the pictures that are now missing? Sadly this is one of the posts that lost the images in the transfer!
1986 SJ410 - Furry dice, new window winder.
10 kinds of people in this world, those who understand binary and those who dont.
if you can read this you're too close to the monitor, sit back and save your eyes!!
---
I probably originally posted this in the wrong section (General)
MOT time coming up and if we ever get any dry weather I would like to try tidying up some of the underbonnet/inner wing paint/corrosion.
It is a flat/matt lightish blue/grey colour and I was just wondering if anybody has a paint code for it ?
I do not have a decent pic of it but it is far too wet and windy to get one today LOL - this is the only pic I have at the moment.
---
I found this Aussie website which seems to be a good database of suzuki colour codes.
It even has the UnderHood colour codes which I have been trying to ID.
I guess being an Aussie site some of the colour combinations might be slightly different ?
This link will go to 2004 colours but there are pages for all years...
https://www.uniquecarsandparts.com.au/c ... uzuki_2004
---